Author: Eamon Raith
Peer reviewers: Chris Nickson, Aidan Burrell

Everything ECMO 014
Paediatric Lung Transplantation has been performed at the Alfred Hospital since 2005, and the Alfred remains the only dedicated paediatric lung transplantation centre in Australia and New Zealand, having performed over 30 paediatric lung transplants since then.
Working in conjunction with the Royal Children's Hospital, Melbourne, the Alfred Hospital provides transplantation services to children aged >5 years or >20kg, and has developed many approaches to pre-transplant and post-transplantation support for these children.
We will review the theory, practice and important issues concerning post-operative extracorporeal membrane oxygenation (ECMO) in the paediatric lung transplant patient.
Q1. Can paediatric lung transplantation be safely performed in adult centres?
Yes!
Favourable short-term and mid-term outcomes for paediatric lung transplantation in adult centres have been demonstrated internationally. Survival rates have been reported as 93.1% at 3 months and 82.8% at 12 months in low-volume (<3 cases/year) centres (Schmid et al, 2016).
Q2. What are the indications for paediatric lung transplantation?
According to the Registry of the International Society for Heart and Lung Transplantation (Goldfarb et al, 2016), paediatric lung transplantation may be required in:
Cystic fibrosis (CF)
Interstitial Lung Disease (ILD)
Interstitial Lung Disease, not Idiopathic interstitial pneumonia (ILD other)
Pulmonary hypertension/pulmonary arterial hypertension (PH/PAH)
Obliterative bronchiolitis, non-retransplant (OB non-Retx)
Pulmonary hypertension, not idiopathic (PH other)
Retransplant
Other
Diagnoses within these categories are demonstrated in the table below:
Q3. What is the role for pre-operative ECMO in paediatric lung transplantation?
This is controversial…
ECMO as a bridge-to-transplantation strategy is technically feasible but presents several problems. It runs the risk of patients being confined to weeks or months of intensive care treatment waiting for lungs to become available. As a a result they are at risk of deconditioning, developing organ failures, as well as other complications. However, recent changes in organ procurement and allocation strategies, and in support modalities, have led to renewed interest in this approach.
Interventional lung assist (iLA) devices, such as the NovaLung, have been used for this purpose in other centres. These are devices designed to provide a parallel low-resistance pulmonary circulation, helping right ventricular recovery as well as improving left ventricular filling and systemic oxygen delivery. Patients have been managed for up to 6-weeks of bridging therapy on this system (Sivarajan et al, 2013).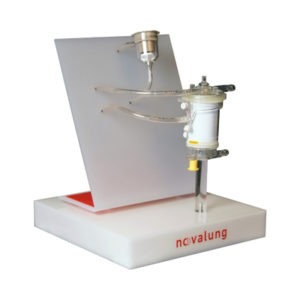 NovaLung (Xenios AG, Heilbronn, Germany)
(http://www.xenios-ag.com/novalung-products/minilung-petite-kit/)
Cypel et al (2016) have reported a case of an adult patient with uncontrolled sepsis from pneumonia who was supported to lung transplantation following bilateral pneumonectomy!
Q4. What are the contraindications to ECMO as a bridge-to-transplantation?
Contraindications to ECMO as a bridge to transplant include:

Absolute contraindications:
Untreated infection
Organ failure (other than pulmonary)
Recent malignancy
Active substance abuse
Poor social support system
History of nonadherence
Relative contraindications
Advancing age (i.e. elderly – not so relevant in the paediatric population!)
Small institutional experience
Poor pre-ECMO functional status
Severe obesity (BMI >30)
In practice, if a patient has not been worked up for lung transplantation prior to the acute presentation, bridge-to-transplantation – although not impossible – is often not a feasible option.
Indications and contra-indications in the field of ECMO, and in the field of transplantation, are constantly moving targets…
Q5. What is the role for post-operative ECMO in paediatric lung transplantation?
Post-operative ECMO for paediatric lung transplantation has important roles in the management of:
Primary graft dysfunction (PGD)

Pulmonary hypertension
Q6. How is ECMO used for primary graft dysfunction after lung transplantation?
VV ECMO may be used as a rescue therapy for Primary graft dysfunction (PGD) allowing 'bridge to recovery' or, in rare refractory cases, bridge to re-transplantation.
PGD is characterised by bilateral lung infiltrates and impaired gas exchange with a decreased PF ratio, in the absence of other causes. The mechanisms and treatment of PGD are discussed in Labs and Lytes 20 — Hypoxia after lung transplantation.
Although conducted in an adult population, research from The Alfred has shown that higher positive end-expiratory pressure levels (within the limits of low-tidal volume ventilation and low-targeted plateau pressure, i.e. low driving pressure) during the first 3 days on VV ECMO support were independently associated with improved survival.
Q7. How is ECMO used after lung transplantation for primary / idiopathic pulmonary hypertension?
Veno-arterial (VA) ECMO is an option for patients receiving bilateral lung transplantation for pulmonary hypertension who require circulatory support.
The pathophysiology of the development of pulmonary hypertension, and how it leads to right heart failure is poorly understood. MacIver et al (2016) recently described a revised pathophysiological mechanism explaining how pulmonary hypertension develops, as shown in the figure below:
VA ECMO can provide circulatory support in those patients that are anticipated to have significant cardiac dysfunction post-transplantation.
Right ventricular (RV) failure is one of the referral criteria for pulmonary hypertension, though better outcomes are achieved when patients receive transplant prior to the development of RV failure.
VA ECMO is used because VV ECMO can not adequately decompress the RV. VA ECMO, on the other hand, can help bridge to recovery by off-loading RV preload. Even end-stage RV failure in pulmonary hypertension patients typically recovers after lung transplantation, usually within weeks.
Important considerations for VA ECMO after lung transplantation are covered in Q5 of Labs and Lytes 20 — Hypoxia after lung transplantation.
Q8. How does the risk of postoperative bleeding differ between paediatric and adult ECMO patients?
Children typically have different coagulation profiles to adults (Butt and McLaren, 2016; Magnusson et al, 2016).
Neonates have higher levels of von Willebrand Factor, factor VIII and lower levels of vitamin-K dependent factors, and this system evolves to reach the adult state across childhood development. Neonates have low levels of antithrombin, and a2 macroglobulin are increased, remaining elevated during childhood and adolescence.
When bleeding or thrombosis occurs in infants and children, there is an associated increase in morbidity and mortality.
Bleeding may occur due to:
Loss of procoagulant system reserve
Increased blood flow
Endothelial dysfunction
Thrombosis may occur due to:
Loss of reserve in the anticoagulant system
Reduced blood flow
Endothelial dysfunction
Severe underlying conditions
As a result of this immature coagulation system, post-operative ECMO use is associated with higher rates of intracranial haemorrhages, and miscalculations in anticoagulation and blood product management.
Difficulty managing paediatric haemostasis on ECMO is compounded by:
Limitations of current models of haemostasis on ECMO
Variation in devices and circuits
Limitations on choice of anti-coagulants
Inadequacies of monitoring tests, and
The variability in normal coagulation status described above.
Consequently, there is significant institutional variation in anticoagulation practice in ECMO after paediatric lung transplantation. Clinicians should refer to local, regional or national guidelines.
Key References