Author: Tim Byrne
Reviewer: Chris Nickson
Here is the Alfred ICU intubation checklist. We invite you to take it and adopt it whole, or, even better, to modify it to your own department's needs.
We have spent considerable time and thought developing it, as well as testing it in repeated simulations prior to clinical use. We wanted to create a checklist that goes beyond ensuring that equipment is ready and team roles are assigned. In particular, we focused on incorporating teamwork principles and the concept of the "physiologically difficult airway" as well as the "anatomically difficult airway".
Both shared mental models and flat hierarchies are characteristics of medical teams that predict high performance. We think that by encouraging the explicit statement of anticipated problems and their solutions ("if this, then that") that this checklist fosters a shared mental model among team members participating in intubation. Adding the invitation to all team members to offer "questions or concerns" as the final item on the checklist aims to create a flat hierarchy and encourage all present to speak up.
Please feel free to feed back to us your experience with intubation checklists and other cognitive aids – there's always more to learn!
The checklist is 2-sided laminated sheet attached to the airway trolley in our ICU. The top image is the actual checklist on side 1 and the bottom image is side 2, which contains some handy reminders. Click here to download a PowerPoint version for editing/ modification.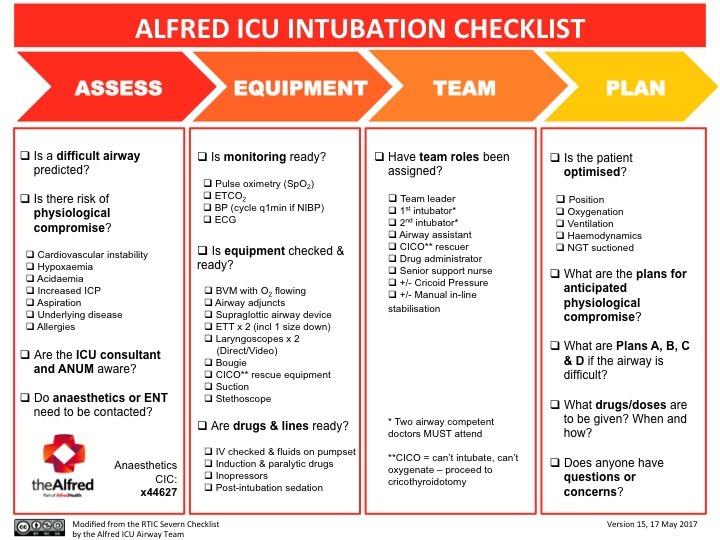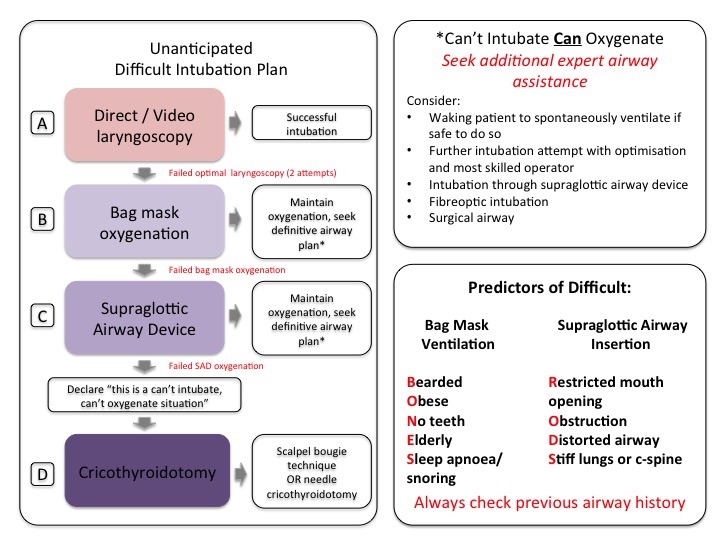 We use this checklist on the Critically Ill Airway course. The course is accredited by multiple colleges and runs over two days. It involves 'hands on' learning via multiple advanced airway skill stations and each participant experiences twelve (or more) challenging immersive simulation scenarios as part of a six-person team. Find out more via the Alfred ICU courses webpage.