Wow! The Alfred ICU Waiting Room app, despite stiff competition, is the winner of the medical app award at the Australian Mobile & App Design Awards 2014. INTENSIVE would like to thank everyone who supported The Alfred ICU's entry and everyone involved in creating the app – a great effort!
This is the description of the app from 'The Director's Mid-year Thoughts' on The Alfred ICU website:
"Another significant development has been an ipad application for the ICU reception area.  The initial homepage displays a short introductory video introducing the user to the ICU, explaining, in plain language, what it means to be critically unwell and providing a virtual video tour of the unit and what to expect when entering a cubicle, including some of the noises. Via real time links to the roster, the user is informed which Intensivist is caring for their loved one by simply selecting the patient's bed number.  The application also contains a photo and brief biography for each Intensivist and it enables requests for a family meeting to be relayed to the relevant Intensivist via SMS and e-mail.  The user is then free to navigate through over 100 pages, many of which can be printed wirelessly within the waiting room, such as nearby accommodation, public transport and eateries, with maps highlighting the location and contact details).A significant innovation is a "Procedures and Therapies" section describing all common ICU interventions and their risks"
A full description of the project is provided here on the Aus Mobile & App Design Awards website.
Meanwhile The Alfred ICU's David Pilcher, Steve McGloughlin and Jamie Cooper were on hand to receive the award on behalf of the creation team: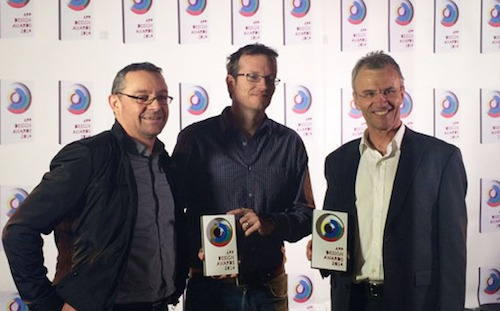 Congratulations to all involved!