Author: Richard Lowsby
Peer reviewers: Sacha Richardson, Arne Diehl, Aidan Burrell, Chris Nickson
Everything ECMO 026
You receive a call from the Emergency Department Consultant to say that a 45-year-old man is arriving in 10 minutes by the ambulance service in VF cardiac arrest after collapsing with chest pain at the gym.  He feels that the patient may be a suitable candidate for ECPR (extracorporeal cardiopulmonary resuscitation).
Q1. As part of the ECPR activation process, who do you alert and what roles do you (ideally) allocate before the arrival of the patient?
The team will comprise of nurses and physicians from both the ED and ICU coordinated by a team leader*.  The team should be further organised into those performing ALS and those involved in cannulation for ECMO support.
The 6 roles of the standard ALS team:
Airway doctor
Airway assistant
CPR
Defibrillation
Scribe
Drug Administration
The 4 roles of the cannulation team:
Cannulator 1 (primary cannulator)
Cannulator 2 (assistant cannulator)
ECMO console operator
Sonographer to image the heart and inferior vena cava (IVC)
At the Alfred we use role cards to identify different team members and serve as cognitive aids – see:  Alfred ICU ECPR Role Cards.
* Team members and cannulators may also include cardiac surgeons and perfusionists, this will differ across centres and countries depending on experience.  The key is to have a team-based protocolised approach with clear role allocation and communication.
Q2. What equipment is necessary to perform ECPR?
A resuscitation/trauma bay should be prepared to receive the patient in the Emergency Department (ED) and an ultrasound machine with vascular and cardiac probes available.
A pre-primed ECMO circuit and console should be available at all times in a nominated ECMO storage area. Remember to plug the console in and switch the heater on prior to use.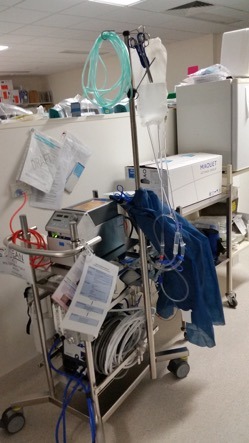 A pre-prepared ECPR trolley should be brought to the resus cubicle.  The trolley at The Alfred ICU contains the following:
Cannulator 1 box:

PPE including gloves, mask, gown
Defries set (drapes, dishes, instruments)

Cannulator 2 box:

PPE equipment and ultrasound sleeve
Betadine
Pajunk needle for accessing the vessel
4x ECMO clamps and scissors
10000 units heparin and 1L saline with 2x 60ml catheter tip syringes for the creating the underwater seal when connecting the circuit

Arterial and venous cannulae with dilators
Mechanical CPR machine (eg LUCAS / Autopulse)
The extras box contains backup equipment that may be required including dilators, spare wire and Amplatz extra stiff wire.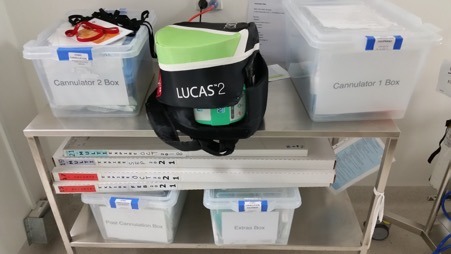 The patient is brought into the trauma bay by the paramedic team, CPR in progress and a handover is provided.  The patient was witnessed to collapse whilst on the treadmill 25 minutes ago.  CPR was commenced immediately by gym staff and initial rhythm was ventricular fibrillation (VF).  He has been intubated and received a total of 4 DC shocks but remains in VF.
Q3. What factors would you take into account at this stage before initiating ECPR?
ECMO is an invasive, resource intensive and costly intervention and is associated with significant risk of complications.  Careful consideration should be given to the likelihood of survival and patient best interests prior to initiation.  Factors that favour a positive outcome in terms of survival with good neurological outcome for this patient would include a witnessed arrest, early initiation of quality CPR, initial shockable rhythm and younger age.  Other predictors may include a presumed cardiac cause and intermittent ROSC.
There is no uniformity to inclusion and exclusion criteria in trials of ECMO for refractory cardiac arrest.  A meta-analysis of 135 patients published in 2009 by Carderelli et al., identified older age and delays to ECPR (30 minutes of manual CPR prior to ECMO initiation) as predictors of increased mortality.  A more recent analysis in 2017 of 841 patients by Debaty et al., demonstrated improved survival for those with initial shockable rhythm, shorter low-flow duration, higher arterial pH and lower serum lactate on hospital admission.
The following criteria would normally exclude the use of ECPR:
Age > 65
Unwitnessed arrest
First checked rhythm is asystole
>10 mins before CPR commenced after collapse
>45 mins of CPR prior to commencing cannulation
ETCO2 < 10 mmHg
Known symptomatic chronic organ failure:

Advanced cardiac disease or cardiomyopathy (VAD or inotropes)
Chronic lung disease (NYHA III or IV)
Chronic pulmonary arterial hypertension
Liver cirrhosis (e.g. evidence of jaundice, ascites)
ESRF (presence of an arterio-venous fistula)
It should be noted that the above serve as a guideline only.  Other than an advanced directive, there are no universal contra-indications; each patient should be considered on a case-by-case basis by experienced clinicians using a collaborative approach.
You decide to proceed to percutaneous ECMO cannulation in this patient.  Advanced life support continues and the LUCAS2 device is placed on the patient while the groins are exposed and femoral vessels imaged.
Q4.How does emergency ECMO cannulation differ to standard femoral Veno-Arterial ECMO cannulation? 
As with standard femoral V-A ECMO cannulation, the femoral artery and vein will be imaged and accessed under ultrasound guidance. It is important to note that arterial pulsation and Doppler colour differential between venous and arterial puncture are commonly lost in cardiac arrest with CPR ongoing. The venous guidewire should be imaged in the IVC and the arterial guidewire in the descending aorta.
Smaller cannulae are preferred in ECPR (19Fr – 21Fr multi-stage venous access, 15Fr – 17Fr arterial return) as they are generally faster and easier to insert.  The distal perfusion cannula ("backflow" cannula) is inserted after the patient is on support and may be delayed up to 4 hours (e.g. if transfer to the cath lab is imminent). It should, however, be undertaken as soon as the patient is stable to reduce the risk of limb ischaemia.  The post-cannulation box on the equipment trolley contains a distal perfusion cannula.
Q5. What adjustments should be made to the ALS protocol during the cannulation phase?
Needle puncture and guidewire insertion may be facilitated by pausing chest compressions.  As adequate chest compressions are paramount for a successful outcome, this pause should ideally as short as possible and no longer than 60 seconds.  Despite the need for timely cannulation, imaging and needling the vessel should be performed in a calm manner with the aim of placing the wire on first pass to avoid subsequent vascular complications.
Once needling and guidewire insertion has commenced NO further defibrillation is undertaken.  Pulse checks continue, however, to identify the possibility of ROSC. If this were to occur, the patient will still likely go on ECMO but the cannulator can catch a breath and proceed at a comfortable pace.
It is reasonable to continue drug therapies as per ALS protocol including adrenaline and amiodarone if the patient remains in VF. Adrenaline boluses may be discontinued when ECMO support is imminent to reduce the risk of inadvertent hypertension as support commences.
Cannulation of the femoral vessels proceeds uneventfully.
Q6. What are the key steps before connecting the ECMO circuit?
Check the circuit
No visible air bubbles in the circuit or air-fluid level in the oxygenator
There is a clamp on the circuit
Oxygen is connected to the oxygenator at 3L/min
These final checks are the responsibility of the cannulator. Correct connection of the arterial and venous cannuale to the corresponding access and return limbs of the circuit should be checked.  The access limb has blue markings and leads to the pump inlet, whereas the return limb has red markings and is in direct line with the oxygenator.
Q7. What ECMO console settings would be appropriate and what are the next management considerations prior to ICU admission? 
An ECMO circuit blood flow of 3L/min and oxygen ("fresh gas") flow at 3 L/min is generally sufficient to support organ function.  Remember to increase pump speed setting to 1000 rpm prior to clamp removal to avoid backward flow in the circuit. Compressions should be stopped once this circuit flow is established. The patient may be connected to a mechanical ventilator with reduced minute ventilation due to the reduced pulmonary circulation on VA ECMO.
ECMO does not treat the underlying aetiology of the cardiac arrest and therefore attempts to ascertain the cause should be sought. It is likely in this case that the cause of arrest is cardiac in nature and so the cardiology team should be notified at the earliest opportunity with regards to organising transfer to the cardiac catheter laboratory for angiography and potential intervention.
If pulmonary embolism is suspected, a CT pulmonary angiogram is required. Therapies to reduce clot burden can be utilised whilst the patient is supported on ECMO such as interventional radiology guided clot disruption or, in exceptional cases, surgical embolectomy.  CT imaging of the brain may be required to exclude intracranial bleeding.
Other considerations include insertion of a right radial arterial line and central venous lines, adequate sedation and temperature control at T36C, which can be set via the ECMO circuit. If the patient's body temperature has cooled too much below 36C a lower temperature may be set to gradually warm the patient to a temperature between 33C and 36C.  Insertion of an arterial distal perfusion ("backflow") cannula to prevent limb ischaemia should be considered at an early stage.
References
Nixon P. Alfred ICU ECPR Role Cards. INTENSIVE. [Accessed 25 October 2018]. Available at URL: http://intensiveblog.com/alfred-icu-ecpr-role-cards/
Alfred ICU Guideline: Extra-corporeal membrane oxygenation during cardiopulmonary resuscitation (ECPR), 2012.
Stub D, Bernard S, Pellegrino V, et al. Refractory cardiac arrest treated with mechanical CPR, hypothermia, ECMO and early reperfusion (the CHEER trial). Resuscitation. 2015;86:88-94. [pubmed]
ELSO guidelines for ECPR cases. [Accessed 25 October 2018]. Available at URL: https://www.elso.org/Portals/0/IGD/Archive/FileManager/6713186745cusersshyerdocumentselsoguidelinesforecprcases1.3.pdf
Cardarelli MG, Young AJ, Griffith B. Use of extracorporeal membrane oxygenation for adults in cardiac arrest (E-CPR): a meta-analysis of observational studies. ASAIO J. 2009;55(6):581-6. [pubmed]
Debaty G, Babaz V, Durand M, et al. Prognostic factors for extracorporeal cardiopulmonary resuscitation recipients following out-of-hospital refractory cardiac arrest. A systematic review and meta-analysis. Resuscitation. 2017;112:1-10. [pubmed]