Author: A/Prof Chris Nickson
This week's education theme at The Alfred ICU is 'Sedation and Delirium'. Here are five tips on sedation in the ICU based on The Alfred ICU sedation guideline:
Use a sedation protocol. We have a written guideline at The Alfred ICU that guides sedation and analgesia titration for intubated patients, and incorporates the Richmond Agitation and Sedation Score (RASS) and the Confusion Assessment Method for ICU (CAM-ICU) tool.
Use an 'analgesia first' sedation approach – intubated patients don't necessarily need sedatives, but they do need their pain and discomfort treated. For most patients morphine boluses (e.g. 2mg IV q5min charted PRN) should be the initial strategy, with boluses of sedation (e.g. propofol 20mg IV q5mins) added only if the targeted level of sedation is not met once pain is controlled. Patients requiring frequent boluses should be started on infusions. Certain patients (e.g. severe TBI or severe ARDS) require deep sedation and infusions from the outset.
Target therapy to a desired sedation score – like any therapeutic intervention, we need an endpoint so that we know that we have administered the correct 'dose' of whatever it is we are giving. For most patients a RASS of 0 to -2 is desirable. RASS = 0 means the patient is alert and calm. RASS = -2 means they awaken to voice (eyes open for <10 seconds). Avoid excessive sedation…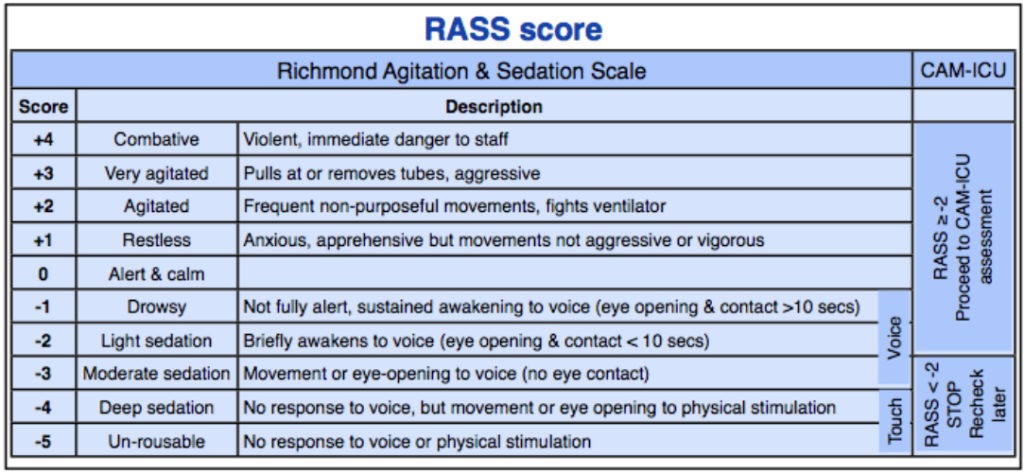 I'll say it again, avoid excessive sedation! Excessive sedation can lead to delayed extubation and prolonged time in intensive care, as well as a decrease in quality of sleep, an increase in delirium and even an increase in mortality. Avoid excessive sedation!
Use the right medications for the right patients  – simple old morphine is the analgesic of choice for most patients, though we use fentanyl as first line for patients with Traumatic Brain Injury at The Alfred ICU. Second line analgesics include ketamine and dexmedetomidine (don't forget simple adjuncts like paracetamol, NSAIDs, tramadol and clonidine where appropriate). If purely sedative agents are needed, propofol is ideal unless longer term sedation is needed, in which case midazolam can be used. We try to limit the amount of benzodiazepines given, in particular, because they are associated with worse delirium in ICU patients.
Check out the Sedation and Delirium SDL page for more resources and references.